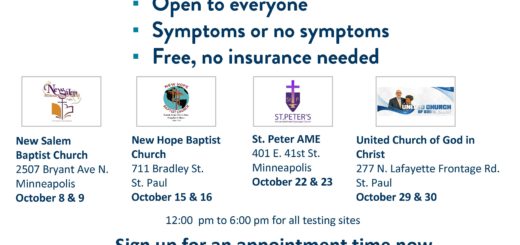 Free COVID-19 Testing Locations
-Open to Everyone
-Symptoms or No Symptoms
-Free, No Insurance Needed
COVID 19 testing events tomorrow 9/11 and Saturday 9/12 Shiloh Temple
Cloth mask/coverings. Starting Tuesday, May 26, people in Minneapolis will be required to wear cloth face masks or coverings when they are in an indoor place of public accommodation (e.g. grocery stores, hotels, retail businesses,...
Get the latest on COVID-19 and the Governor's Stay Safe Order. Plus resources for community members and businesses.
Throughout the COVID-19 response, HNC is committed to provide you with key resources and updates. Here are several new updates that contain information relevant to our community.